Lake Ontario Fishing Charters out of Henderson Harbor
Henderson Harbor is the most versatile fishery in all of Lake Ontario. It offers more variety to choose from at any time. There are so many different species to choose from that we ALWAYS have something to fall back on no matter what. If one thing is not biting we move on to something that will bite! This means as our pictures show you, more success day in and day out, "Limits after Limits".
---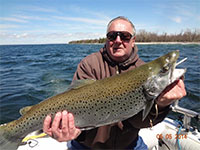 Our Brown Trout fishing starts in early April out of Henderson Harbor. This time of year, brown trout are in close to shore in 5 to 10 feet of water as they look for the warmest water they can find. This can concentrate them in smaller areas, making them easier to find creating some of the hottest brown trout fishing available anywhere. It's not uncommon to get limits of football size browns averaging 3-5 lbs., and some over 15 lbs. or even bigger.
---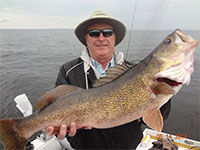 Walleye fishing is Henderson Harbor's best kept secret. Also known as the Golden Cresent and for good reason, it's the most consistent in Lake Ontario. These Walleyes average between 7-8 lbs. and some of these monsters get up to 14 lbs. A true trophy anywhere in the United States, and no tastier fish out there. (May, June)
---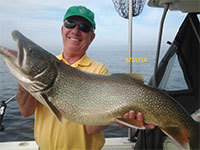 Lake Trout is by far the most abundant at this port. Continuous rod popping action, sometimes even 2 or 3 anglers at a time fighting fish. Never a question if you can catch your limit, it's how fast you do it. Fish averaging 8-10 lbs., some pushing 25 lbs. (July-September)
---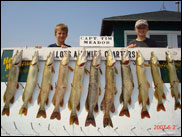 Northern Pike are known for being aggressive and willing to bite hungry or not. Large population with fish from 21" to 40" average 10 to 20 per day. These fish are known for being boney but our fish cleaners know how to filet them boneless and are very delicious. (May, June)
---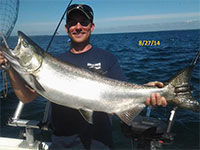 Our Salmon fishing is as good as any, sometimes better! Fishing for these can be hot offshore in early July, long before the other ports see them. For those who have never fought a 30 lb. King, it can be the most exciting, armburning, drag-screaming, intensely-fighting fish you'll ever experience. With fish averaging 22-25 lbs., for sure a fight you'll never forget. (July-September)
---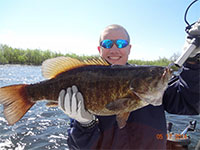 Small Mouth Bass are definetly pound for pound one of the hardest fighting fish for it's size. Nothings more exciting than the fast rod bending action when drifting for these scrappy fighters, fish averaging 12 to 18 inches with some over 6 lbs. (July-September)
Photo: 8lbs. 23 1/2" Small Mouth Bass just 4oz. shy of the state record!


---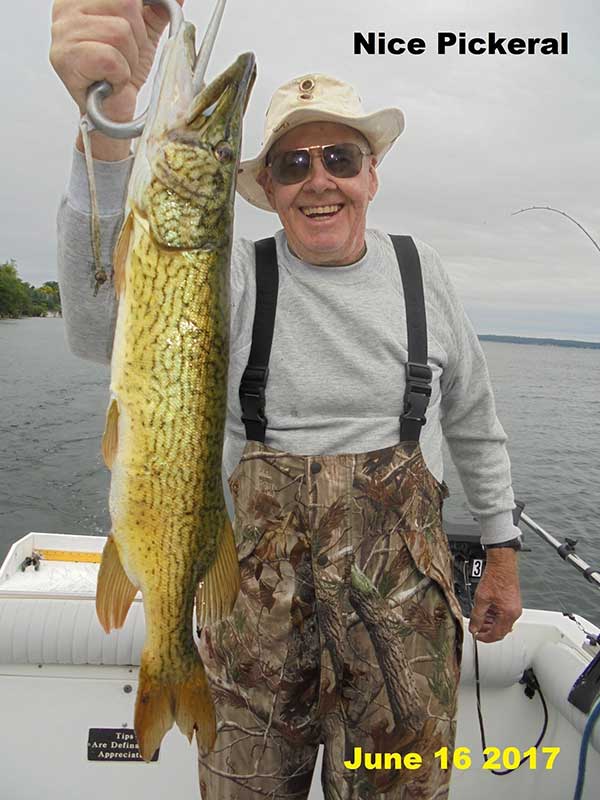 Our Pickerel season opens the first Saturday in May every year. These fish can be very abundant at times in the bays in 8-12 feet of water. Trolling with planer boards with up to 10 lines at a time. We can average 20-30 fish a day. These pickerel average about 18" in some up to 25" and up to 6lbs. Lots of rod action sometimes up to 3-5 fish at a time. Great for all anglers young and old.
---
CHARTERS (up to 4 people)
6 hours.......................$800
8 hours.......................$900
10 hours......................$1,000
$200 deposit required
60 day written notice of cancellation required for a full refund. Gas surcharge implemented if gas prices rise to over $5.00 a gallon.
- S P E C I A L -
1 day fishing. 1 night lodging. All meals included.
$345/person
(based on 4 people)